Storytelling Performances & Workshops
The Fire-Maker
Venue: Tregwynt Mansion, Castle Morris, Haverfordwest, Pembrokeshire SA62 5UU
Date: Wednesday, 10th April at 7:30pm
Tickets: Standard £7.50 / Concessionary (low income) £5.50
Tickets on the door or Email: debwinterstories@gmail.com
Stories of fire and light; stories of hot pursuit and endless patience. Let enthralling storytelling and exquisite music take you deep into the earth and to the World-Beyond-The World.
For this show Deb weaves her words with the powerful, intuitive music of Tinc Y Tannau (Sianed Jones & Ailsa Mair Hughes, bass viols and voices) to draw you into the woods and out onto the wild waves of your imagination.
You can explore the music of Sianed and Ailsa at:   www.tincytannau.co.uk
This event is supported by the Arts Council of Wales through the Noson Allan / Night Out scheme
---
Word Wizards Cabaret
Also see The Bard of Windmill Hill at: BRISTOL FESTIVAL OF LITERATURE - HOW THE WEST WAS LOST.
Venue: The Lansdown Pub Thu 25 October 2018 from 8.00 pm - 10.00 pm
Further Information:   https://www.bristolticketshop.co.uk/eventdetails.aspx?e=18966
---
Impetuous Deeds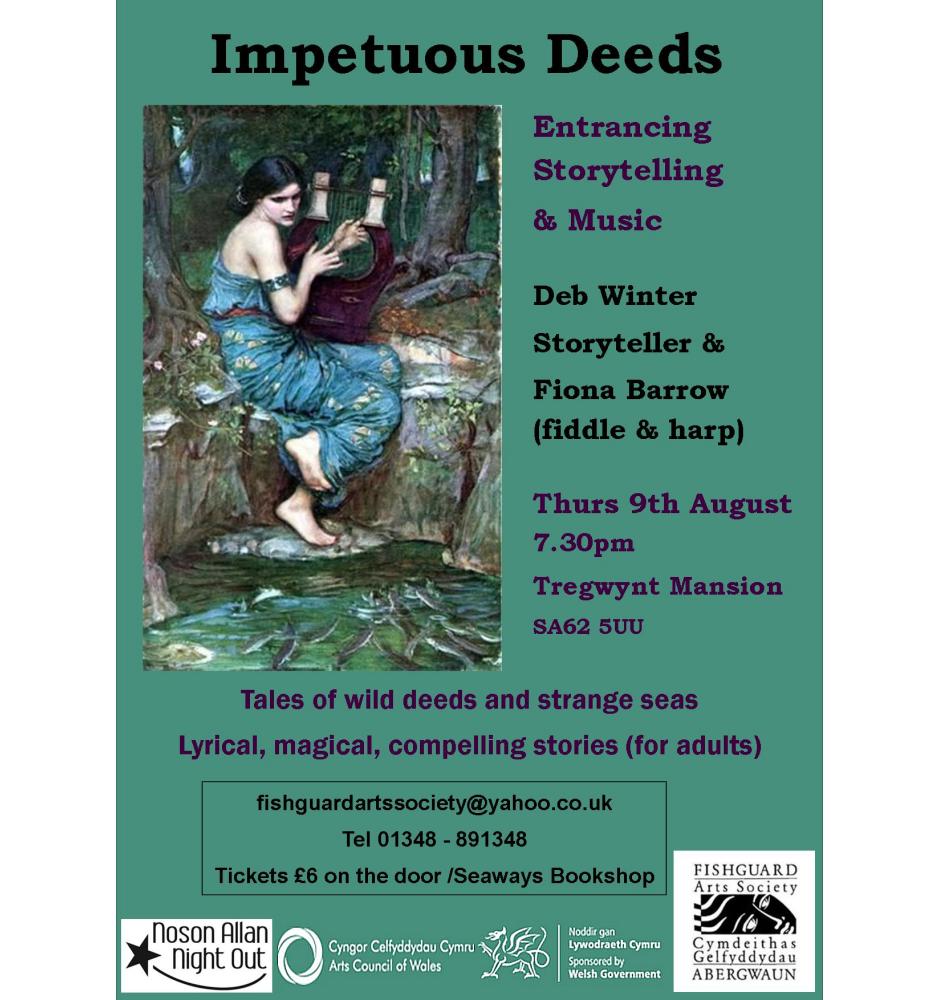 ---
Storytelling Weekend at

The National Botanical Gardens
Venue: National Botanic Garden of Wales, Middleton Hall, Llanarthne, Carmarthenshire. SA32 8HN.
Further Information:   https://botanicgarden.wales/visit/whats-on/storytelling-weekend/
Deb will be telling tales in the fairy woods and the round house both Saturday and Sunday, 21st & 22nd July, as part of the storytelling weekend:
- Green Magic
Strange Tales of Talking Trees, Tempting Toadstools, Magical Plants & Mischievous Spirits with evergreen storyteller Deb Winter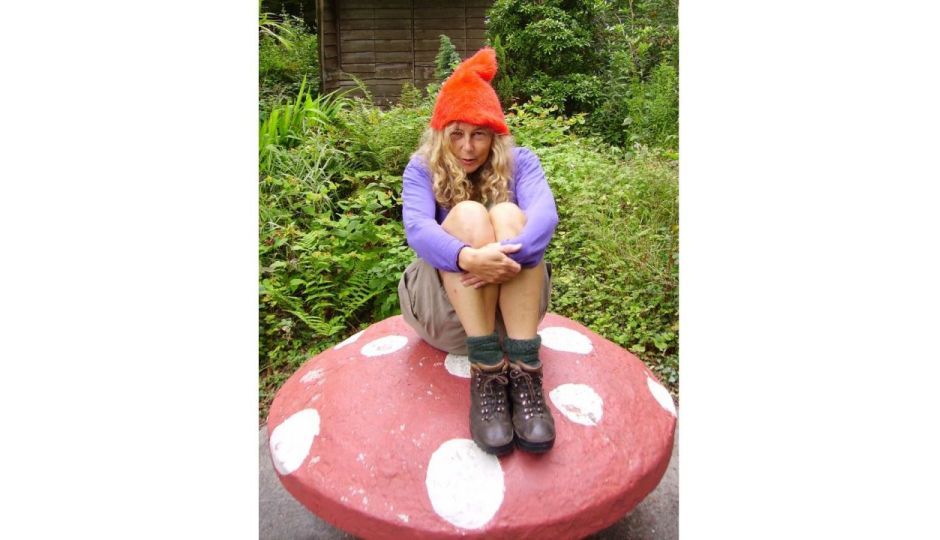 ---
Newport Community Library Fundraiser
Venue: Nevern Village Hall, Nevern, Pembrokeshire, SA42 0NE, UK
Date: Sunday, 3rd June at 4pm
Tickets: £7 On the door
Including: Scaramella VOCAL ENSEMBLE; Daniel Davies CELLIST; Maggie Harris POET; Paul Steffan Jones POET; Deb Winter STORYTELLER.
---
Daughters of The Deep
---
The Wild Word-Surfers Workshop
Next Storytelling-Related Workshop
Improv Day ​: ​The Wild Word-Surfers Workshop
Storytelling Workshop: Wednesday, 2nd May 2018, 10am - 4.00pm.
Venue: St. Nicholas Village Hall, St. Nicholas, Goodwick, Dyfed, SA64 0LG.
A friendly 'Improv' workshop - games and exercises involving verbal improvisation - making stuff up is the name of the game. Flights of fancy, ludicrous claims, entertaining lies, strange stories and daft ideas. Surprise yourself with your own inventiveness and spontaneous effusions. Not to mention volcanic eruptions of creativity.
Useful for developing your spontaneous speaking skills, verbal inventiveness and 'thinking on your feet', but also just great fun.
Great for embryonic storytellers who'd like to experiment with spontaneous storytelling and improvisation in a friendly, supportive group of fellow over-50's learners.
Good for any over-50's who relish using their grey cells; enjoy lively young-minded company; and who are not too old to play!
If you've done Improv before you'll know it is challenging and fun - if you haven't - come and try something new with a really friendly tutor.
---
Fins & Skins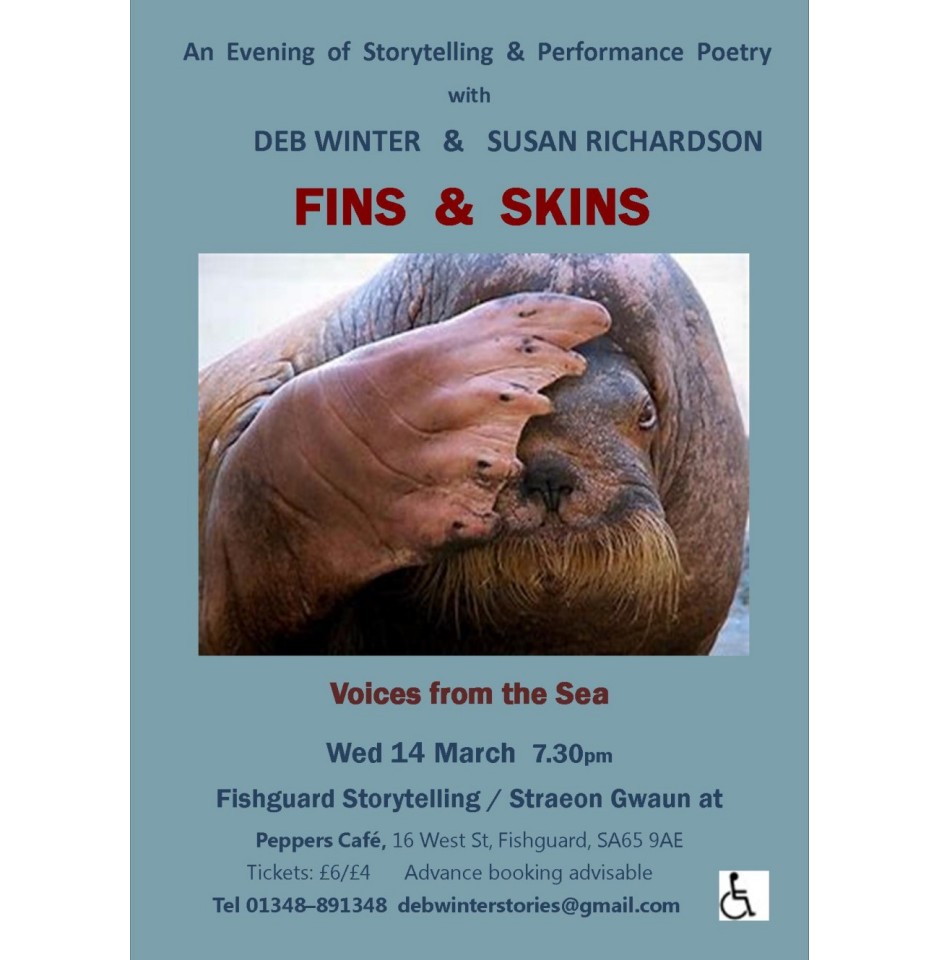 For further information:
http://www.peppers-hub.co.uk/fishguard-storytellling-straeon-gwaun/
Susan Richardson is a poet and performer whose fourth collection of poetry, Words the Turtle Taught Me, has just been published by Cinnamon Press. Themed around endangered marine species, it evolved from her recent residency with the Marine Conservation Society. Her previous three collections include Creatures of the Intertidal Zone (2007), inspired by her own, and others', journeys through the increasingly fragile Arctic environment, and skindancing (2015) which explores human-animal metamorphosis and our intimacy with, and alienation from, the wild and our animal selves.
Susan has performed her work at festivals from Hay to Adelaide, on Radio 4 while enjoying a four-year stint as one of the poet-performers on Saturday Live, and on BBC2 to complement their coverage of the Chelsea Flower Show . She is currently poet-in-residence with both the global animal welfare initiative, World Animal Day, and the British Animal Studies Network .
Susan's New book - Words the Turtle Taught Me - 'vital, glorious, salutary' (Philip Hoare)
​Storyteller Deb Winter, who worked for Greenpeace, Friends of the Earth, BTCV and the Environmental Trainers Network in another life, has created a number of 'green-themed' shows with The Magic of Green, The Green Phoenix, Call of the Wild, the Company of Birds.
​Deb is an engaging and popular storyteller and has performed at Cheltenham Science Festival, Bristol Storyfest, Swansea Fringe, Tenby Arts, End of the Road and Priddy Folk Festival and well as locally for Fforest, Transition Bro Gwaun, the National Trust at Stackpole. Deb hosts Straeon Gwaun/Fishguard Storytelling at Peppers and has brought some of Wales' top storytellers to Fishguard.
In 'Fins & Skins', poet and storyteller are united by a deep love for the ocean​.
---
Tales From The Forest
---
Frogs & Wolves: A Storytelling Workshop
Venue: Canolfan Morgannwg, 32 - 36 High Street, Swansea, SA1 1LG. UK
Date: Saturday, 30th September, 1 - 5pm
Ticket Info:  www.eventbrite​​.co.uk and www.facebook.com/FringeSwansea/
---
Tenby Arts Festival: Strange Goings On
Venue: Church House, Upper Frog Street, Tenby SA70 7JG
Date: Saturday, 23rd September, 2pm
Storytelling with Deb Winter
Lively Storyteller Deb Winter presents a medley of strange tales to surprise and entertain you.
What is going bump in the night? Who comes in out of the mist? Mysteries and mischief from a playful teller of traditional tales.
For adults rather than children (11+ is fine)
Deb Winter has delighted audiences across Wales and the South West with her mixture of energetically told folk tales and original stories. She won the 'Storyteller of the Year' award at Bristol Story Slam 2015, taking home the coveted 'Yarnspinner' trophy, and her shows in 2016 & 2017 Bristol Storyfest were sold out. A popular teller on the Story Club circuit and at festivals, Deb lives locally and hosts 'Fishguard Story Nights/Straeon Gwaun'.
Tickets £5 on the door or from Tenby Arts Festival website www.tenbyartsfest.co.uk
---
Curious Stories, Cheltenham Science Festival
Venue: Smokey Joe's, 15-17 Bennington St, Cheltenham GL50 4ED
Date: Saturday, 10th June, 19:00-20:30
Join the Institute of Physics and storyteller Deb Winter (winner of Bristol Story Slam 2015) for an evening of weird and wonderful science, as scientists share stories which will both surprise and entertain. The full line up will be announced at www.cheltenhamfestivals.com/science/science-in-the-square/cheltscifest-...around-town
---
All Four Corners
---
Trysts & Promises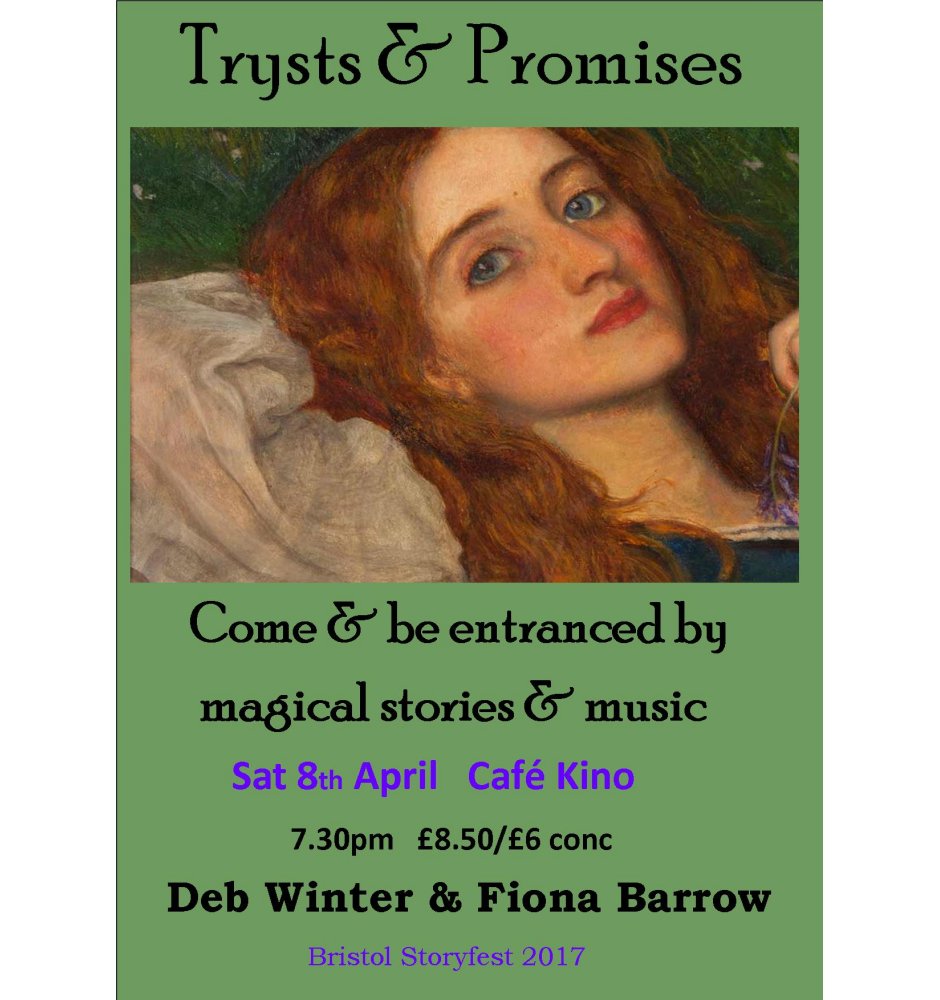 Venue: Cafe Kino, 108 Stokes Croft, Bristol BS1 3RU
Tickets: On the door, or reserve in advance by emailing debwinterstories@gmail.com
---
Behind The Veil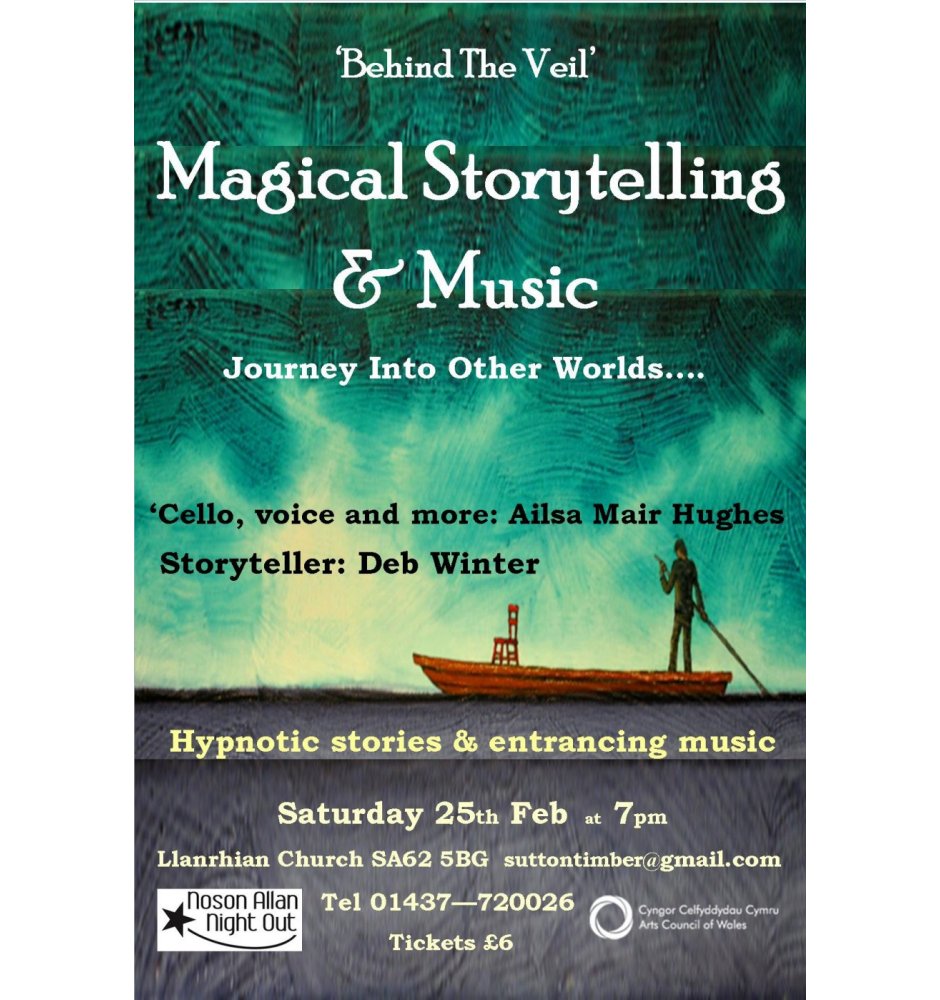 ---
The Green Phoenix
---
Spoken Word Saturday 2017
---
The Company of Birds
---
The Story Weavers
Friday, October 21st 2016 at 19:30 

at Pontardawe Arts Centre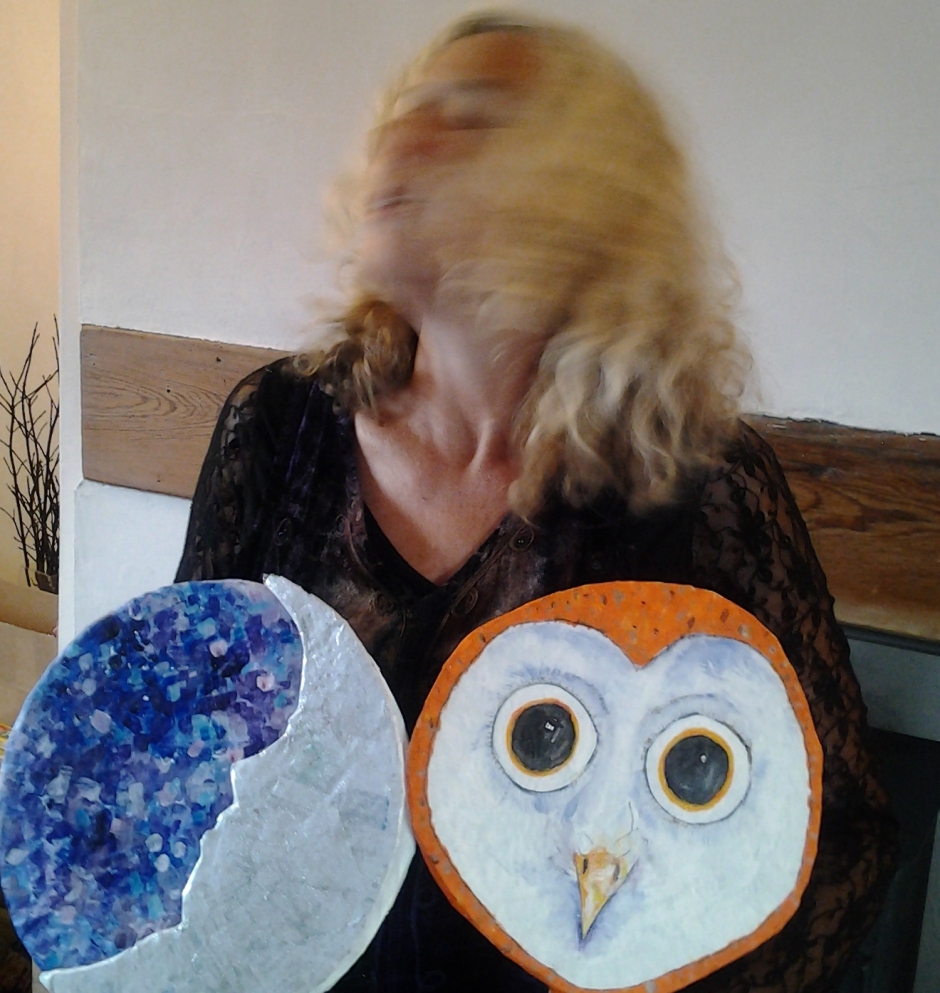 Delyth Jenkins, Deborah Winter and Prue Thimbleby bring you a special show commissioned by the 2016 Gwanwyn Festival: an Evening of storytelling and Celtic harp.
The Silver Wheel
A story of love, loss and transformation. Join Deb and Delyth on a magical journey to the stars.
Threads of Fate
The ancient goddesses of destiny have been spinning and weaving the threads of our lives for century after century. But new hands take hold of the thread - with strange consequences……
The Secret of Contentment by Prue Thimbleby
Two stories woven together with autobiography and an interactive demonstration of rope making.
---
The Magic of Green
---
Trysts & Promises
Wednesday, July 27th 2016 

at Tregwynt Mansion, Haverfordwest

A tryst in a medieval orchard; a journey into forbidden lands; love, redemption and sacrifice.

Travel back in time with storyteller Deb Winter and musician Fiona Barrow (fiddle, harp, accordian) and meet a dark lord and a fair lady. Pass some time with us at the inn with a mysterious stranger. But be very careful what you say to him…words are dangerous things…………

Music: Fiona Barrow is a professional violinist who trained classically and also followed a love of traditional music, playing on the west coast of Ireland for 2 years, and also made a living as a street musician travelling across Europe as a solo act and with various outfits including Tragic Roundabout, Fiasco di Casino, and Swervy World theatre.

She toured with the Doppelganger gypsy orchestra playing at Topkapi Palace, Istanbul, Skopje Festival in Macedonia and Tuzla in Bosnia. She played a sell-out run on Broadway with Travelling Lights award- winning show 'Into The West' and completed several tours with Kneehigh theatre including 'Tristan and Yseult' at Sydney festival, Australia, Wellington festival, New Zealand and Spoleto festival in South Carolina. She also toured for 5 years with singer Eve Loiseau in the hit show 'Piaf -the Songs'.

Fiona has composed and performed for storytelling for many years. She was musician in residence in Somerset for a year with storyteller Jane Flood, and toured the sell-out show 'Peter and the Wolf' with Martin Maudsley, appearing Beyond the Border, Bath Fringe and Sage, Gateshead.

Tregwynt Mansion, Castle Morris, Haverfordwest, Pembrokeshire SA62 5UU

Wednesday 27th July; £6 on the door?, or from Seaways Bookshop, Fishguard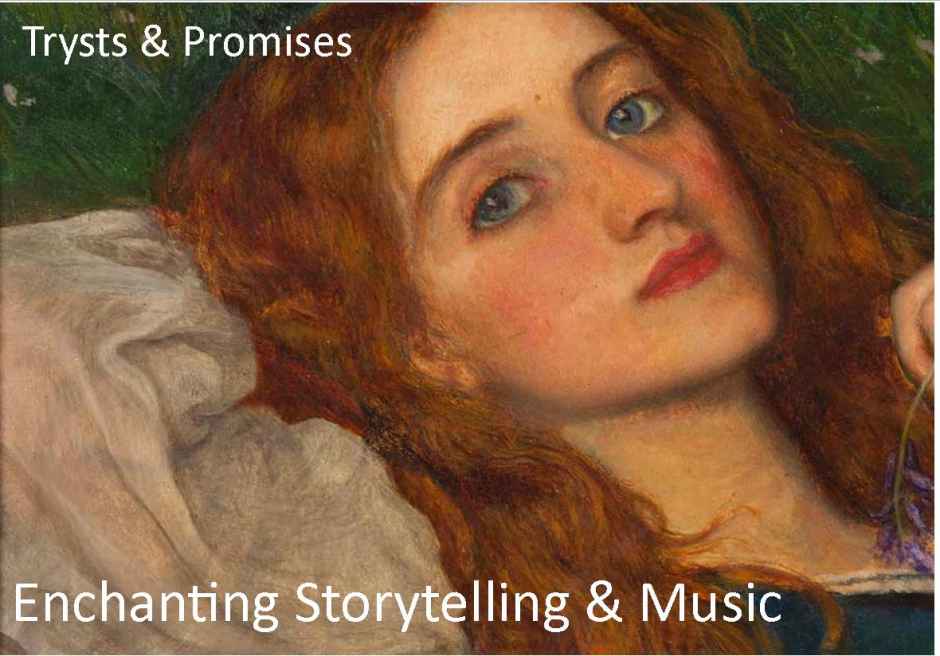 ---
The Red Shoes
---
Dreams & Desires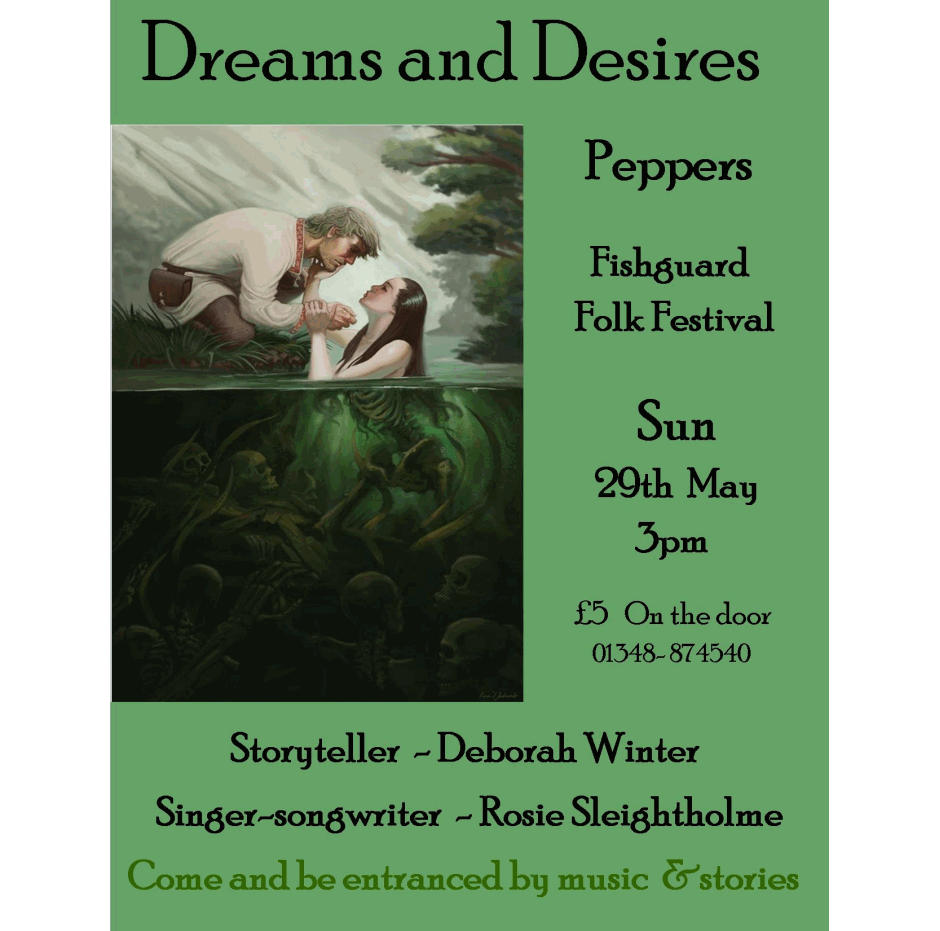 ---
A Medley of Tales
---
Frozen……for Grown-ups
Icily Enticing Storytelling and Music
Saturday, December 12th 2015 

at West Wales Art Gallery

Storytellers: Deb Winter & Milly Jackdaw   Music: Milly Jackdaw

Venue: West Wales Art Gallery (Upstairs from Peppers Café), 16 West St, Fishguard. SA65 9AE. 

Time: 2:30 p.m.

Peppers Café will be open beforehand and afterwards for lunches, coffee and cake etc.

Tickets: On the door £5

Chilly Tales for a winter's day from two warm and witty West Wales Storytellers.

Original songs and music from the mischievous Milly to thaw and chill you by turn.

Bring your hat and gloves and chill out with us at the West Wales Art gallery (upstairs, above Peppers).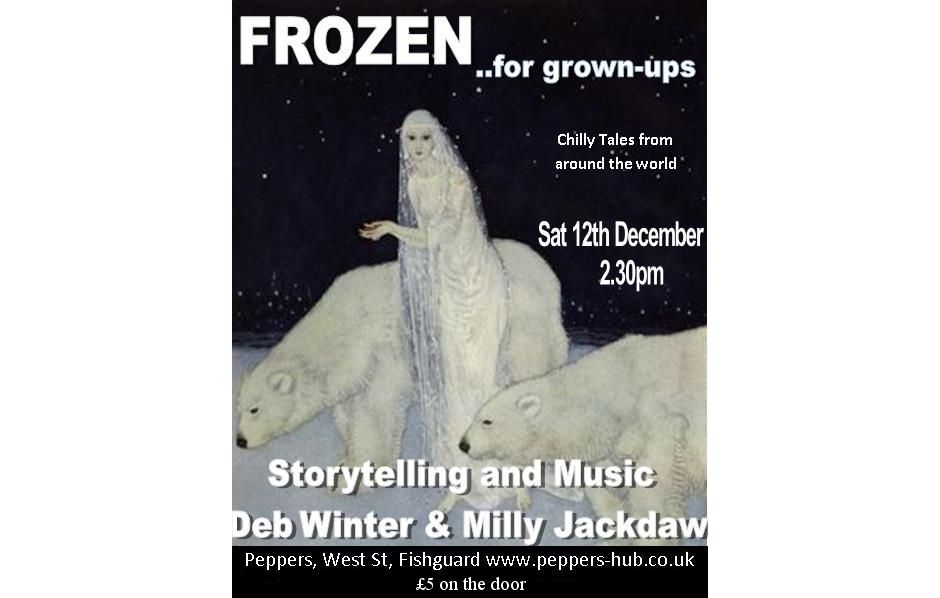 ---
Call of the Wild
Tuesday, October 27th – Swansea Storytelling Night
Venue: The No Sign Wine Bar, Wind Street, Swansea.
Time: 8:00pm
Take a walk on the wild side with stories as old as the forest and as strange as love.
---
The Strange Dance
Friday, August 14th – Tregwynt Mansion (Near St. Nicholas) SA62 5UU
Storyteller: Deborah Winter   Music: Delyth Jenkins
Time: 7:30pm
Tickets: £5  Available from Seaways Bookshop, Fishguard and on the door (bar licence).
An enchanting evening as harpist Delyth Jenkins and storyteller Deborah Winter weave their magic together to transport you into other realms.
Delyth, described in Taplas as 'one of Wales's most accomplished and compelling Celtic harpists' beguiles audiences with a seductive range of musical emotions, from sparkling enthusiasm to a hypnotic serenity and tenderness. This range is mirrored in Deborah's energetic storytelling, which can rollercoaster from the sorrows of the human heart to irrepressible humour in a moment.
'The Strange Dance' is an imaginative retelling of some intriguing traditional stories wrapped around with the multi-coloured tapestry of Delyth's music. Dare you put on your Red Shoes and be transported into the world of faery? It is not always easy to come back….
Join Deborah and Delyth for a journey of the imagination in the lovely setting of Tregwynt Mansion's Ballroom. (Suitable for 12+)

---
Priddy Folk Festival
10th - 12th July 2015
Venue:  Priddy, Somerset 
Deb will be telling fairytales with her own unique twist (WORD WIZARDS CABARET 6 - 8 pm)
---
Stories By The Sea
Family Storytelling On The Beach
Saturday, 4th July 2015
Storyteller: Deb Winter   Pirate Crew: Becca & Katie Douthwaite
Venue:  Barafundle Bay 
Time: 11:00 a.m. - 3:00 p.m.
National Trust Free Event
STORIES BY THE SEA Come and hear about the strange creatures that live under the sea and the ghostly galleon crewed by pirates. 11 - 11.45. Repeated 12 - 12.45. Stories from Deb Winter 1-3pm. Making up Stories together.
---
Call of The Wild
An Afternoon of Story & Song
Saturday, June 13th at Peppers Café in Fishguard.
Storyteller: Deb Winter   Music: Rosie Sleightholme
Venue: Peppers, 16 West St, Fishguard. SA65 9AE. 
Time: 2:30 p.m.
Peppers Café will be open beforehand and afterwards for lunches, coffee and cake etc.
Tickets: On the door £6
Join singer Rosie Sleightholme ("Utterly wonderful stuff" - BBC Radio Wales) and storyteller Deb Winter ("Storyteller of the Year" - Bristol Storyfest 2015) as they weave a blend of original and traditional songs and stories, taking you on a magical journey into forbidden forests, wild seashores and strange lands.